When we first met Alana & Corrie they told us they were camera shy and nervous about photos. This couple knew exactly what they wanted; a relaxed, fun wedding, focused on spending time with the ones they love – celebrated in style. Once they started discussing the details of their summer wedding we knew it was going to be extra special and they didn't have anything to worry about.
Arriving at Arafel Park for the bride's preparation we were immediately struck by the beautiful friendships and family. Everyone was all smiles and having fun, the bridesmaids were all so helpful and genuinely excited for Alana and honoured to be involved in the wedding. The bridesmaids wore white and they looked so elegant alongside Alana in her couture gown was designed by Zavana Bridal and purchased from Brides in Love.
Bendooley Estate is extra beautiful in summer, the roses are out, the homestead is deep green and the fields have turned golden, add botanic touches from Francis Floristry and you've got wedding magic, the floral archway and decorations transformed the outdoor space. The celebrant Alexandra Lollback ensured the ceremony was full of love and special moments, a lot of laughs, tears and emotions flowed. I think everyone's favourite moment was when Corrie saw Alana, we all love a groom that sheds a tear when he sees his bride for the first time.
All the guests were awestruck when they entered the Book Barn for the evening and saw the most epic ceiling installation; a canopy of cascading flowers, foliage and tea-lights. The night ended with everyone feasting, drinking good wine, and sharing stories about the couple and carving up the dance floor!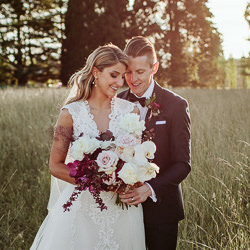 Hilary & Nicola were an absolute dream to work with. They are both insanely talented and were so willing to go the extra mile to capture beautiful photos on our wedding day, even when that meant running through tall grass on a 30 degree day! A HUGE thank you for your work, we absolutely love the photos.