Meeting Tim & Josh anyone can see they genuinely share a special connection. They are hilariously funny, yet grounded and supportive. Tim & Josh effortlessly blended various traditional wedding elements into a day that was authentic and uniquely their own. Josh is obsessed with Disney, musical theatre and succulents, Tim loves fine wine and reviewing movies.
Who said you can't see your significant other on the morning of your wedding? Tim & Josh, joined by their family and best friends, got ready together at an incredible Mosman AirBnB. They had a champagne brunch between getting helping each other get changed, contagious laughter and bow-tie fumbling.
Josh's grandma Lois was in the bridal party and proved to be the cheekiest of the group! They reversed the typical wedding schedule and took their photos prior to the ceremony – this allowed them to spend more time with their loved ones and party the night away. Tim & Josh said their vows overlooking Sydney Harbour as the sun set.
Their celebrant was a close family friend and the service was moving and full of laughs. For most guests this was their first time attending a same sex wedding.
These two grooms know how party and the reception at Sergeants Mess was unlike anything we've ever seen. Wearing sequinned tuxedos they burst through the room Baywatch style! The speeches at the reception radiated with love and appreciation. Guests received potted succulents, grown by Josh's grandma.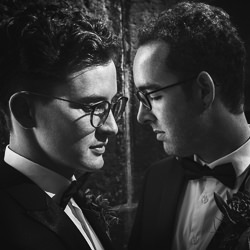 The experience we had with Hilary and Nic was incredible. My husband and I had been admirers of their work for many years and we chose them as our wedding photographers without hesitation. The journey working with them from start to finish was so enjoyable. We always felt safe and sure they would capture our day authentically and beautifully. We were so thrilled with the stunning moments they captured. Their hospitality throughout the whole process was such a lovely touch which made us feel like we were in the right hands. We would highly recommend Hilary Cam Photography – professional and two super lovely and thoughtful people.